Post by James on Dec 19, 2013 17:49:12 GMT
So my friend replied to say that translation of 'fall' as the inner-lining of a sari is correct. FYI. Is 'sa' clear now?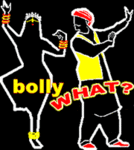 What about "wow!"?
So song title Are Re Are might translate Wow! Oh, Wow! (which would not be descriptive enough for an American song title).
Crazy Kiah Re might be Crazy Kiah! Wow!, or Oh! Crazy Kiah!, or even That Crazy Kiah!
(in which "Kiah" must be the subject character's name).
Sure, wow could work if you wish, but the word 'god' is not a divine name.

Regarding crazy kiya re, in that case 'crazy kiya' is a conjunct verb, using the English 'crazy' as a loan word. So a better translation might be, 'Oh! He drove me crazy!'. Something more like that.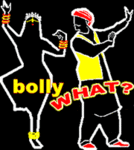 So "Swing That Dance!" might translate Dola Re Dola, or "Swing And Move!", or even "Twist And Shout!"? Naw, not that.
The whole sentence goes, 'dola re dola dil dola man dola'. So, 'my heart swayed', would be better since 'dil' and 'man' are synonyms for the heart. And you're right, they're swaying to imitate the effect on them.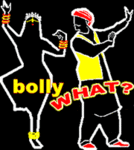 Which still leaves Kajra and Jiah undefined.
And these do not seem like American song titles. Could we possibly meet and discuss this in person?
Howard "Dancelover"
Kajra is a synonym for Kajol. It means kohl.
The whole line goes: kajra re, kajra re, tere kaale kaale naina. Oh the kohl, oh the kohl, of your black, black eyes.
Black eyes are a sign of beauty in Indian culture, as is black hair and fair cheeks. You'll see those types of things praised all the time in songs and poetry. So they're praising her beauty by remarking upon her kohl and black eyes.

This translation
of the song Jiya Re is quite good. Jiya means heart and is also the conjugated form of the verb 'to live' (jeena) in the past tense. Maybe, "I lived my own way"?

By the way, the reason the titles do not resemble American song titles is because they're rarely the whole sentence. Hindi songs are often called by just a few words from the chorus or the most memorable line. Are you familiar with the game
Antakshari
? Basically, it's a contest to see who can remember songs the best, often played in teams. So let's say you sing a song that ends in the letter 'a'. I have to sing a song that
starts
with the letter 'a'. If the song I sing ends on the letter, 'g', you must sing a song starting with that letter, and so on and so forth. Song titles are often abbreviated to a few words to facilitate remembering them.